# SAP S/4 HANA
Use the SAP S/4 HANA connector to connect to a SAP S/4 HANA cloud or on-premise instance. This connector allows you to work with the hundreds of OData APIs that come with each S/4 HANA instance to interact with data sources that include purchase orders, requisitions, invoices, and products.
# API version
This connector uses the SAP API Business Hub family of OData APIs (opens new window).
# How to connect to SAP S/4 HANA on Workato
Find the OData API for your automation needs in the SAP API Business Hub explorer

(opens new window)

.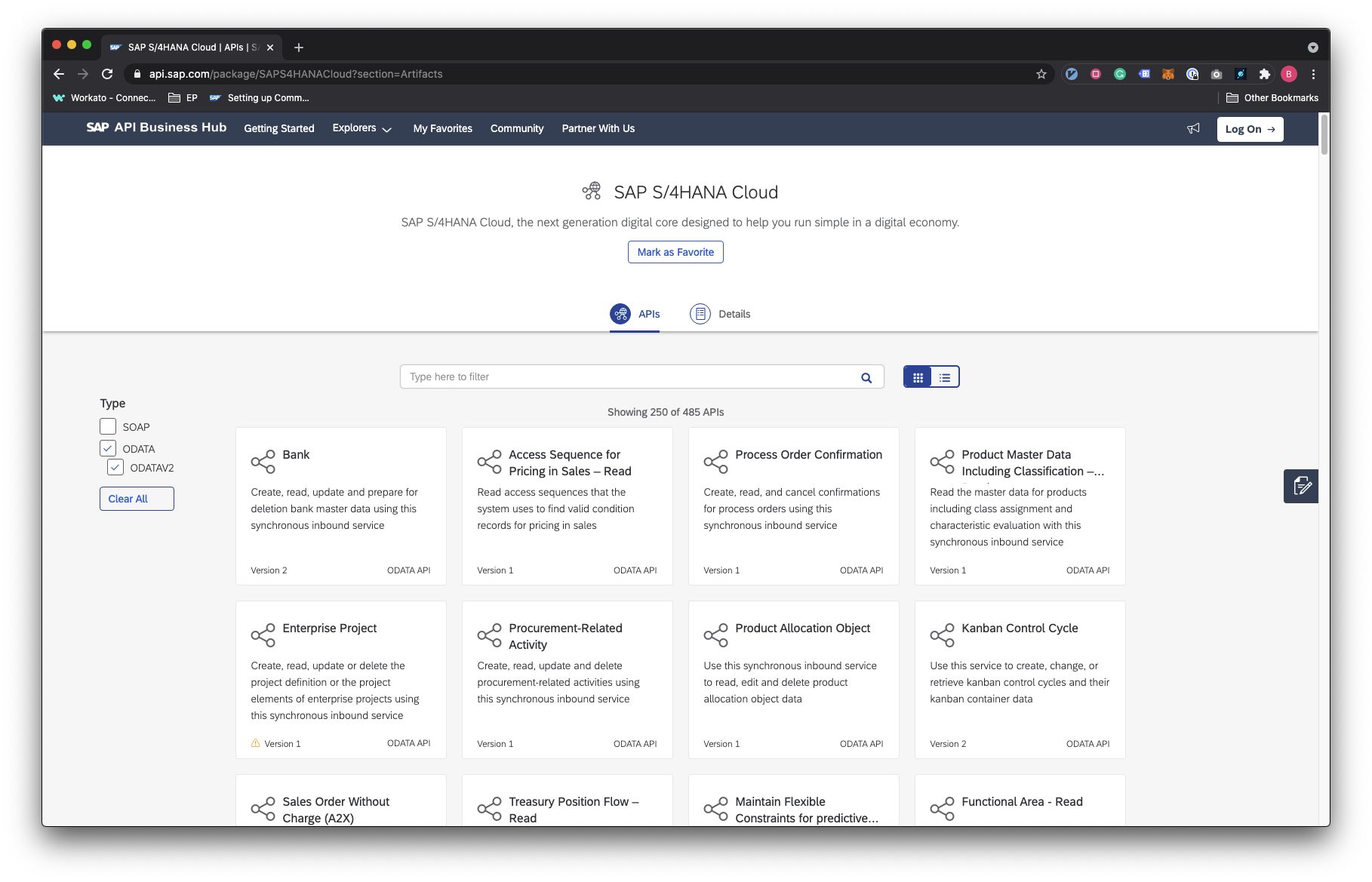 Once you've found a suitable API, click to open it, and find the communication scenario ID. Store this ID for use later on.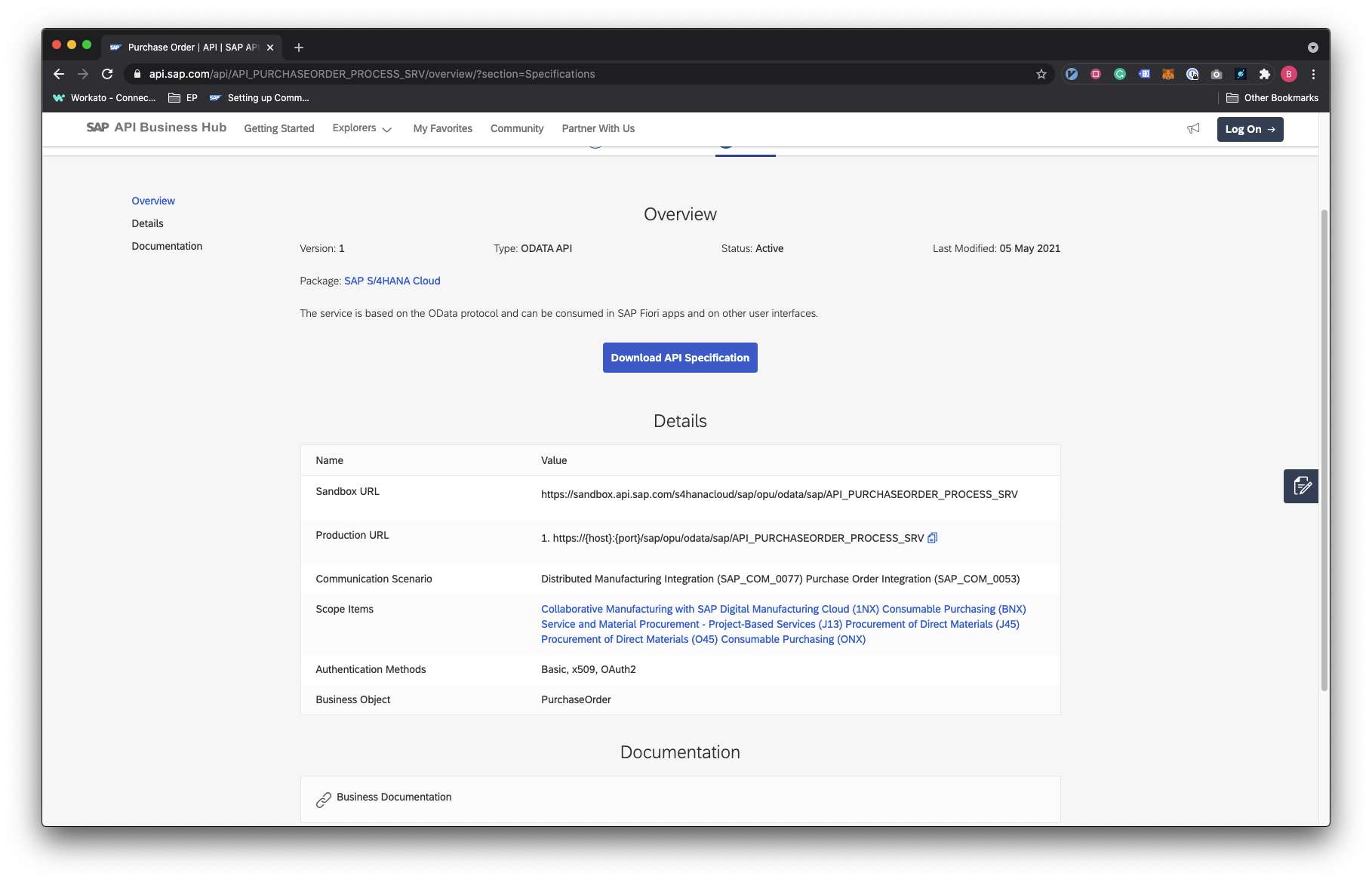 Follow the steps in Setting up Communication Management

(opens new window)

to do the following:
Create a Communication User: the integration user assigned to Workato
Use basic authentication
Create a Communication System: tied to the communication User
Create a Communication Arrangement: ties the communication system and user to the communication scenario
When you have completed the steps, return to Workato to fill in the connection fields.
# Connection fields
Field
Description
Connection name
Give this connection a descriptive name so you can reuse it in other recipes
Username
The username of the Communication User you created above
Password
The password of the Communication User you created above
Host
The base path to your SAP S/4 HANA system OData services. This is found in the Communication Arrangement URL.
For example, if the service URL is https://www.myS4HanaSystem.com/sap/opu/odata/sap/API_PURCHASEORDER_PROCESS_SRV, then your host is https://www.myS4HanaSystem.com/sap/opu/odata/sap/
Service
A sample service that you can use to test authentication. This can be the first service that you have configured. The service name can be found in your Communication Arrangement.
# Triggers & Actions
This connector supports the following triggers and actions:
New object
New/updated object
Create object
Update object
Search object
Get object details by ID
# Supported object types
The available object types depends on your selected service. The service you provide in the action or trigger configuration will dictate what objects show in the Object dropdown.
WARNING
The service you provide must be enabled for the communication user you have given in your connection. You enable new services by creating new Communication Arrangements in S/4 HANA that link communication users to communication scenarios.
For example, providing the API_PRODUCT_SRV service in the Service input field will allow you to select all object types defined for that service.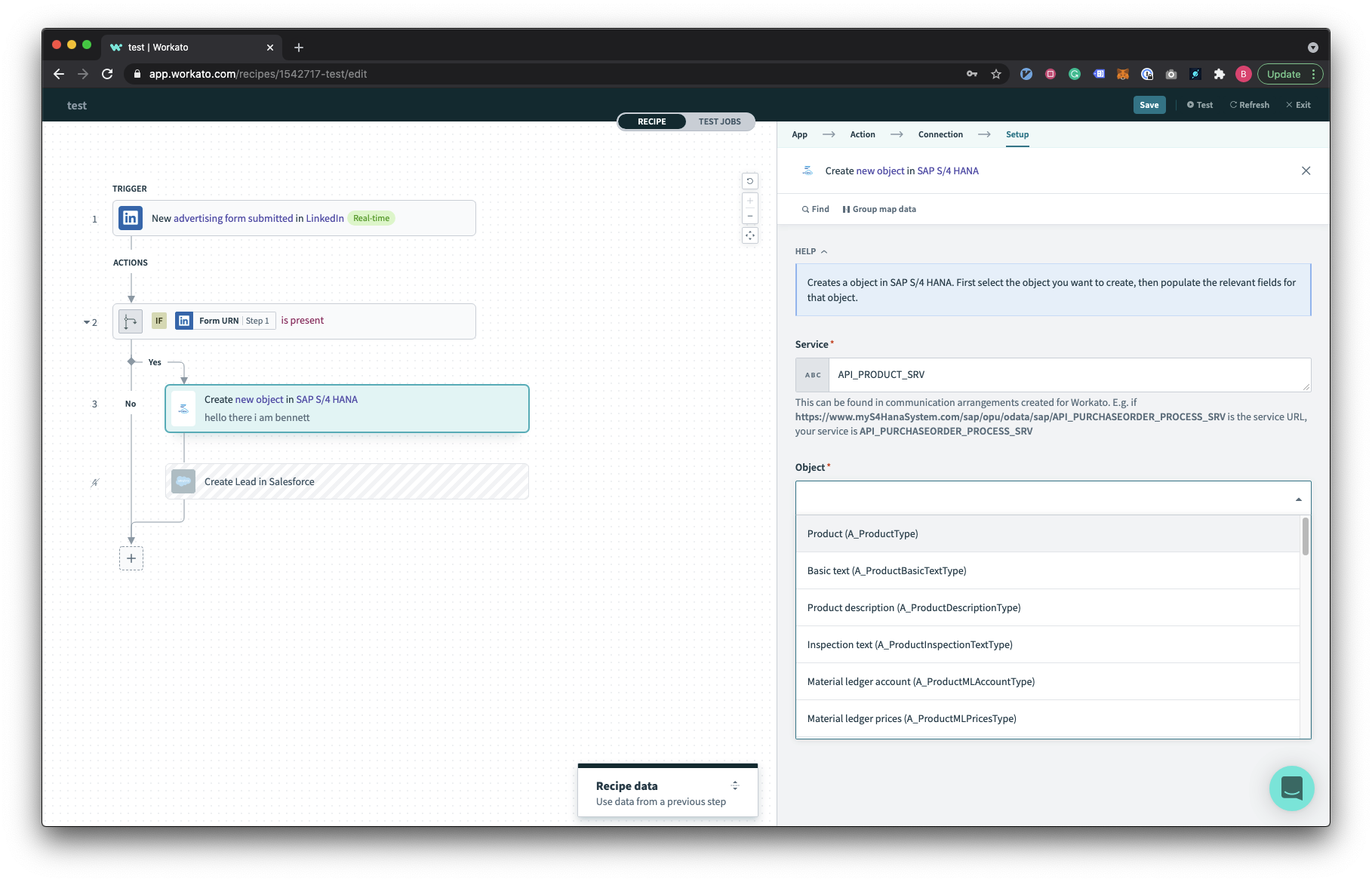 Selecting a specific object will then cause more input fields specific to that object to appear. You can then start mapping datapills to these objects.