# Gmail
Gmail is a popular e-mail service used by both consumers and businesses alike.
The Gmail connector enables you to build powerful automation around Gmail and connect with other applications.
# API version
This connector uses Gmail API v1.
# How to connect to Gmail on Workato
The Gmail connector uses OAuth 2.0 for authentication. When prompted, follow the on-screen connection instructions and login to your Google account to connect.
Based on Google's updated security policies, Gmail triggers or download attachment actions can only be used by paid G Suite accounts. Before you link your account, and if you intend to use the Gmail New email trigger or Download attachment action, you must whitelist Workato's Gmail connector app and grant it read permission. The following section will guide you through the required steps.
# Whitelist Workato Gmail connector
Check out Google's detailed instructions for managing OAuth based access to connected apps. Below is a step-by-step guide to Whitelist Workato Gmail Connector app for your GSuite account.
# Step 1. Login to the Google Admin Console
You must be signed in as a super administrator to complete the actions listed below.
Login to Google Admin Console
# Step 2. Navigate to the API permissions in Security Settings
From the Admin console home, go to Security > API Permissions.
API permissions
# Step 3. Add Workato Gmail Connector to Trusted Apps
At the bottom of the list of apps, click the Trusted Apps link.
Click on Trusted Apps
Click Whitelist an App + (Add icon) in the bottom right corner. The Add App To Trusted List window opens.
Trusted Apps
In the Select App Type list, select Web applications.
Select App Type
Fill in the OAuth2 Client ID for the Workato Gmail Connector.
763335457294-gp4359qrjgu7vl96eit0p2n725197oki.apps.googleusercontent.com

Fill in the OAuth2 Client ID
Click Add to save the changes.
Add to save changes
Lastly, set Read email permission to Yes and click on Link your account.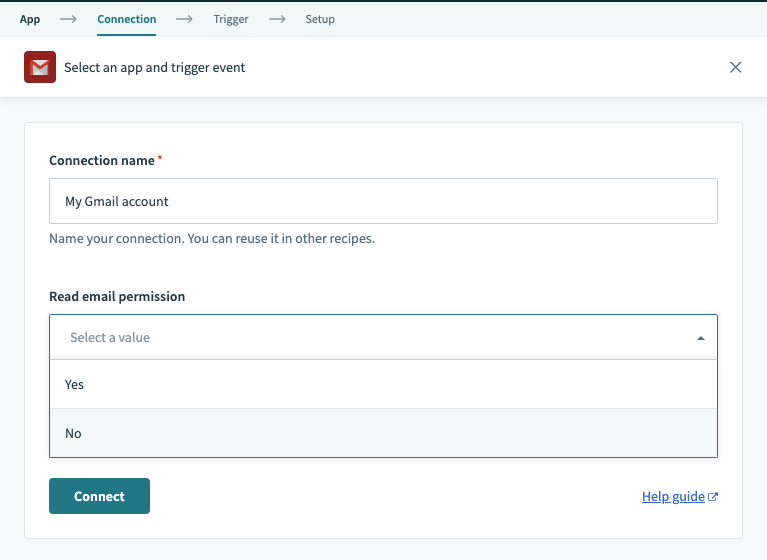 Select Yes for read email permission