# Workato Embedded Private Community
The Workato Embedded Private Community enables you to customize the Community recipes (opens new window) browsing results to include recommended recipes built by you and the apps that are most relevant to your customer community.
With these tools, sharing useful recipes enables your customers to start building integrations on the embedded platform quickly.
FEATURE AVAILABILITY
The Private Community is available to customers in all of Workato's DCs (data centers), including:
US Data Center
EU Data Center
JP Data Center
SG Data Center
AU Data Center
# Apps
As an Embedded partner, you can determine which apps display in the Private Community library. Organize apps in the following ways:
# Allowed apps
If the customer has a list of allowed apps and manages them through App access settings), then the Private Community library displays only the apps in that list.
For example, if a customer can only access Salesforce and Google Sheets, then the library displays only these two apps.
# Recommended apps
If you decide not to define app access settings for your customers, you can display a list of Recommended apps:
Recommended apps
The out-of-the-box Workato Embedded branding configuration allows you to specify up to 16 apps to display at the top of the apps list. This list could contain the most popular apps among your customers.
Contact your Customer Success Representative to add to or update this application list.
# Full list of apps
If you don't want to display Recommended apps or Allowed apps, you can display the full list of Workato apps instead.
# Shared recipes
The recipe-sharing feature enables Workato Embedded partners to share powerful template recipes with their customers.
When users browse for community recipes, the recipes you share always appear at the top of the search results with a unique tag. In the following example, the tag ACME Recommended is a recipe that a Workato Embedded partner shared.
Shared recipes appear at the top of search results
Your customers can easily identify these recipes and make a copy in their account by clicking Use this recipe.
# Add a shared recipe
To add a recipe to your community, make the recipe public and a recommended recipe in the Settings tab of the recipe.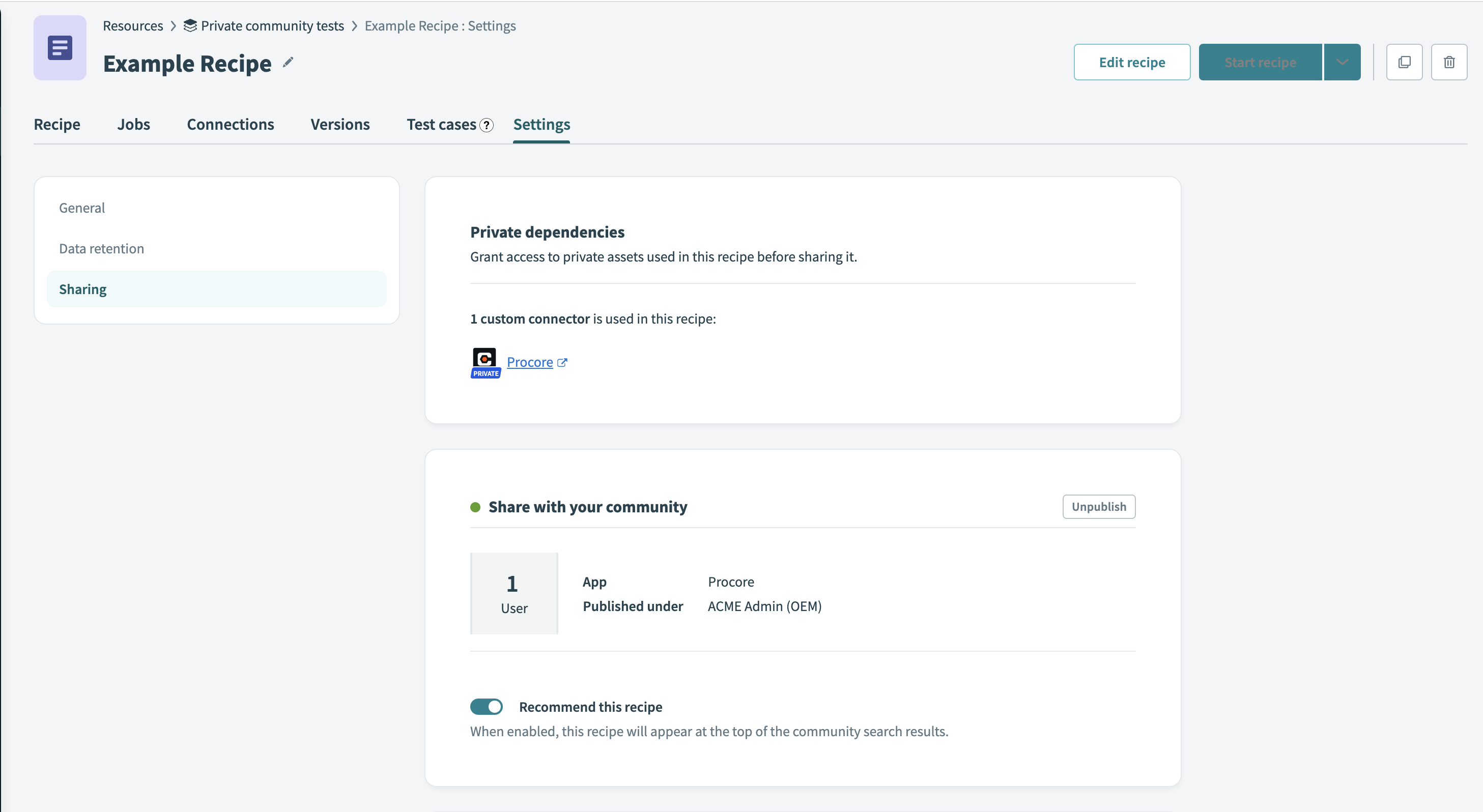 Public and recommended recipe settings
# Shared connectors
Shared connectors is a feature that enables you to share custom connectors (SDK connectors) only with your customer community.
Contact your Customer Success Representative for more information.

Last updated: 11/9/2023, 4:18:14 PM