# Application page
You can submit, manage, and filter requests on the Application page.
# Submit a request
Every application with a request submission page configured has a Create new request button on the top-right corner of the application page. When an app-user clicks Create new request, Workato displays the page used to submit a new request for the application.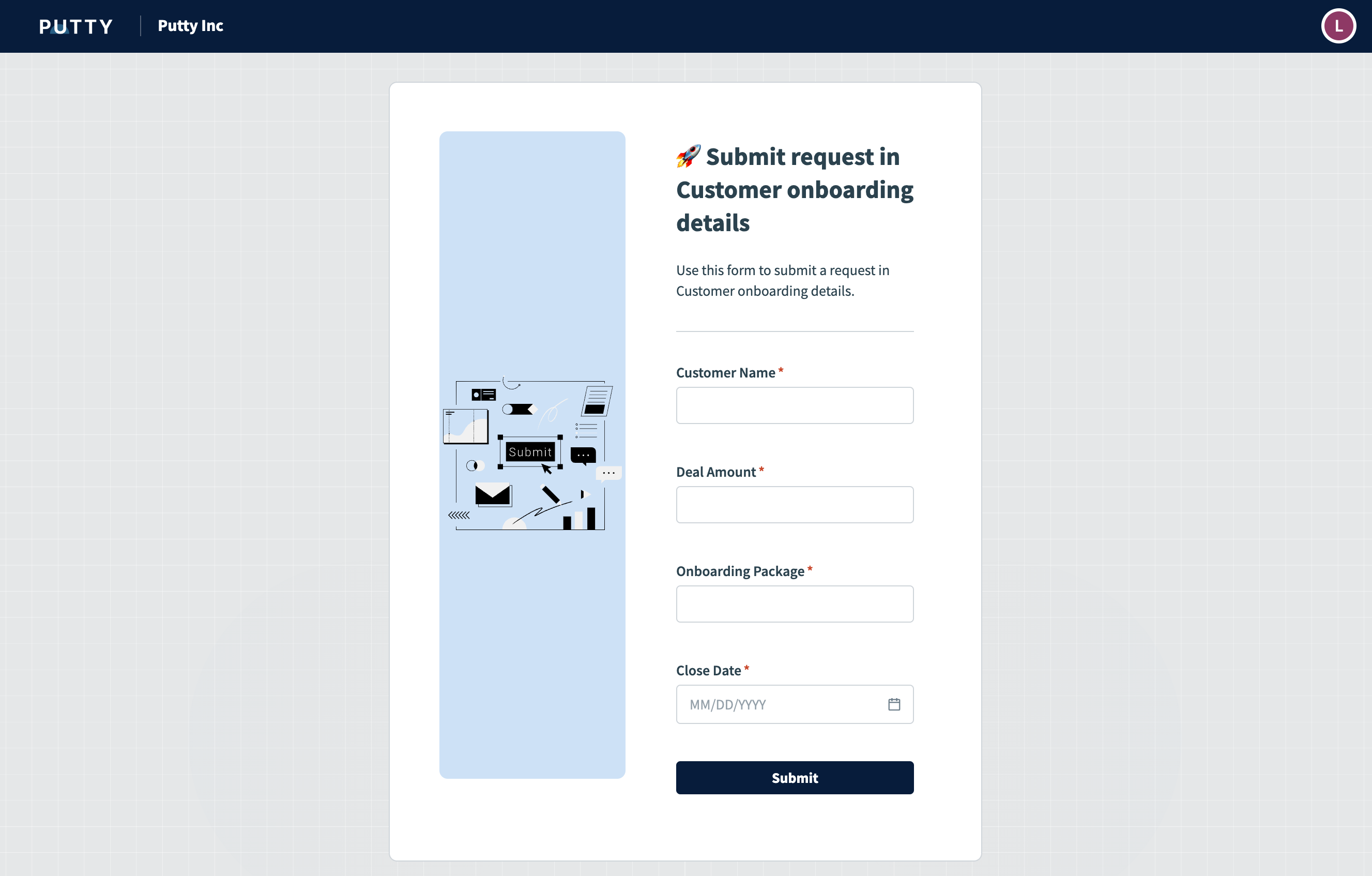 Submit a request
# Manage requests
The Application page displays all requests that are visible to the app-user. Managers of the application can see all requests. Members can only see the requests that they've created or the ones they are assigned to.
Workato Administrators can set up the roles for the users in the application at the project level. See user groups for more information on assigning roles.
# Filter requests
The Application page contains three quick filters:
Assigned to me

Requests assigned to the user.

Created by me

Requests created by the user.

Due today

Requests are due on the day the user views the request.
Additionally, this page provides the following details for each request. You can also filter requests by these parameters:
Current stage

The workflow stage of the request. Builders can define custom workflows to track requests in Workato in Projects > Project name > Settings > App.

See workflow stages for more information.

Name of the record

Workato uses the first column in the table to display as the record name. The order of the columns can be changed in the Table Storage user interface.

Last updated

The most recent date the request was updated.

Created at

The date the user created the request.

Created by

The user that created the request. This field is empty if the request was created using the Table Storage connector.

Due on

The date by which the task for the request must be processed. This field is empty if there are no active tasks for the current request.

Assignee

The user or group assigned to the active task for the request. This field is empty if there are no active tasks for the current request.
View/filter requests
# View request details
Clicking on any request in the list displays the right panel with the details of this request. If there is a task currently active and assigned to an app-user for this request (like an approval), details of the task are also displayed.
Additionally, the panel displays all activity streams for the request:
Creation
Task creation/assignment
Task reassignment
Task completion
Task expiration
Workflow stage changes
Details panel

Last updated: 9/21/2023, 9:23:12 PM