# Workbot for Slack setup
In this article, we cover how to setup Workbot in your Slack organization:
# 1. Create a Workbot for Slack connection
Connecting a Workbot for Slack connection will add Workbot to your Slack team. To create a new Workbot for Slack connection, go to App Connections and click on Create a new connection. Search for Workbot for Slack to begin.
Workbot for Slack connection fields
Application
Workbot for Slack
Connection name
Choose an appropriate name for this connection
NLU provider
You can optionally connect your own DialogFlow or Amazon Lex NLUs. These have to be connected first before they can be displayed in this dropdown list.
Advanced
Slash commands verification tokens
Used for invoking legacy Custom Integration slash commands. Each slash command has a token. Separate tokens with commas to support multiple slash commands. Learn more.
Custom help
Provide simple text help OR rich help using a JSON document corresponding to Slack message. You can build a rich help message using the Slack message builder.
Custom OAuth profile
Custom OAuth profiles allow your Slack apps to leverage the Workato Slack connector under the hood. When selected, all requests to the app will use the profile specified. Learn more.
# 2. Invite Workbot to channels
You can interact with Workbot via direct messages immediately after adding Workbot to your Slack organization. Direct message with Workbot are not visible to anyone but you.
You can also interact with Workbot on channels it has been invited to. Note that conversations with Workbot on channels are visible to all team members in that channel. To invite Workbot to a channel, mention Workbot via @workbot.
Furthermore, in order for Workbot to post notifications to a Slack channel, it has to first be invited to that channel.

Invite Workbot to channels by mentioning @workbot
Alternatively, invite Workbot via the Invite new members to join menu option in channel details.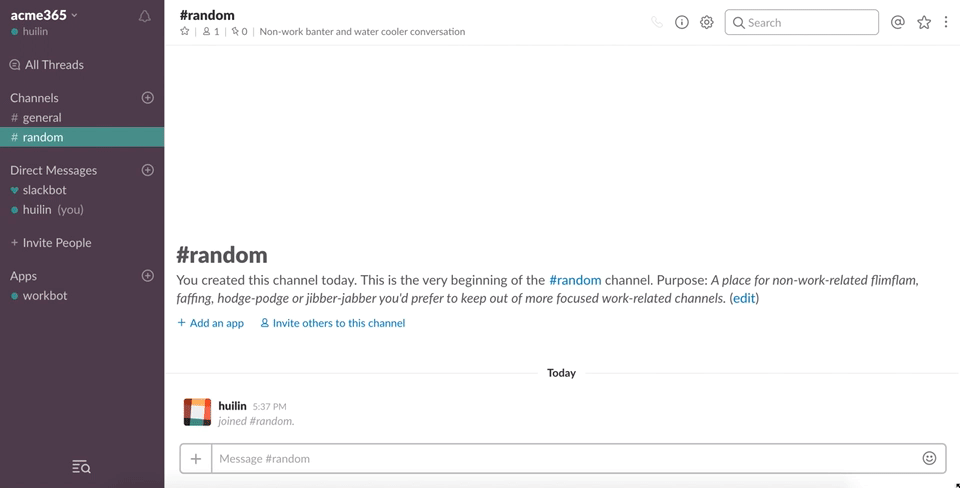 Invite Workbot to channels via the menu option