# Tasks
A task is a unit of work that occurs every time a recipe performs an action that requires compute resources. Every time a recipe invokes an action provided by a connector counts as one task. This includes standard connectors, utilities, custom connectors, etc.
A recipe job may consist of multiple tasks. The number of tasks executed in a job depends on the data of the specific trigger event and the recipe logic.
To find more information on where to find the number of tasks done in your Workato account, read on here.
# Task rules
In general, all successfully run actions in a job are counted as tasks and failed actions are not counted.
All successfully run actions in 'called' recipe will be counted
All successfully run actions via jobs rerun (e.g. UI, API, recipe ops) are counted
Successfully run actions in a failed job are counted i.e. if job fails at step 5, step 1-4 are counted
# Task counting
Tasks are counted as follows:
# Callable recipes
If a recipe is called successfully, the call to the recipe will be counted as a Task. Thereafter, in the child job created, the actions in the recipe called will be counted as tasks.
# Rerunning jobs
All tasks done in rerun jobs are counted as tasks.
# Examples
The examples for how tasks may be counted in recipes are as follows:
# Example 1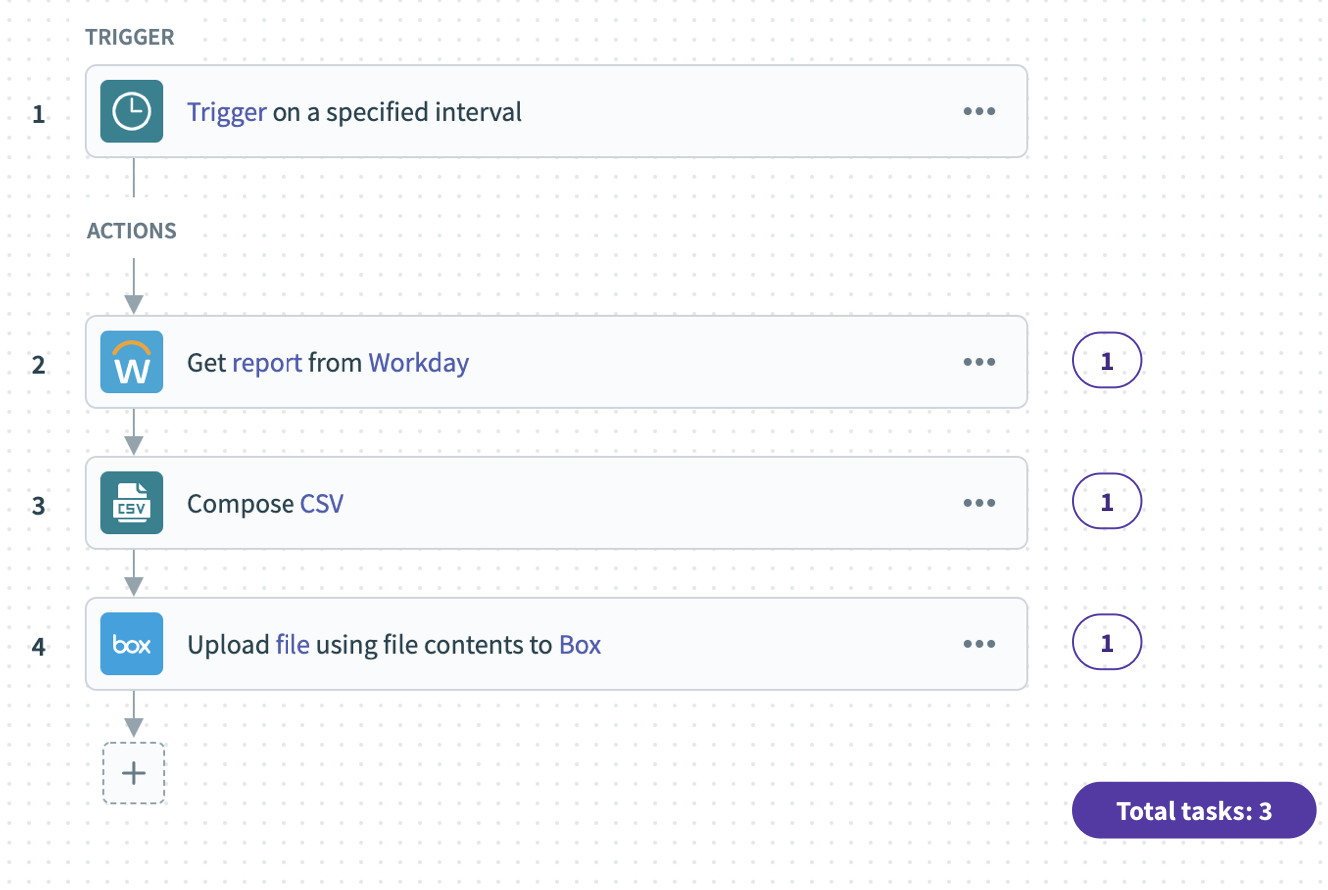 Simple recipe with three actions
Total Tasks per job = 3 (Step 1 + Step 2 + Step 3)
# Example 2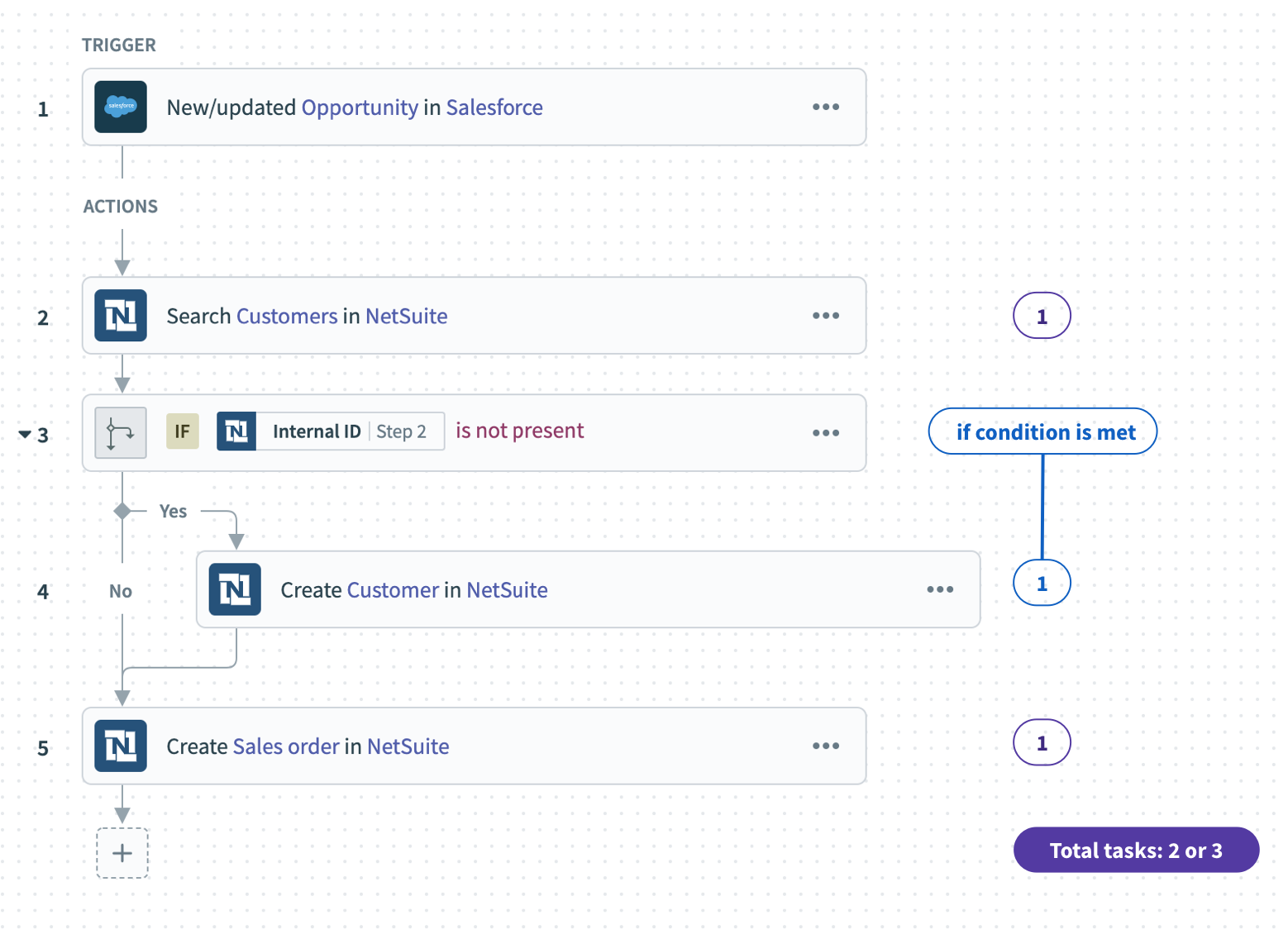 Recipe with conditional actions
Total Tasks per job = 2 or 3, depending on whether the condition in the recipe is met.
Conditional statements do not incur any cost
The 'Search customers in Netsuite' step counts as 1 task regardless of the number of customers returned
Besides conditional actions, all other control statements: Conditional action with else, Action with error monitor, Call recipe, Stop, Repeat action will not be counted as tasks.
# Example 3
Recipe with repeated actions
Total Tasks per job = 1 + (2 x no. of rows)
Actions within a Repeat action are executed multiple times according to the number of items/rows present in the list. Thus, the number of tasks is multiplied by the number of items/rows.
Eg. If the number of rows in the 'Repeat action' is 5 then the total is 11 tasks.
# Example 4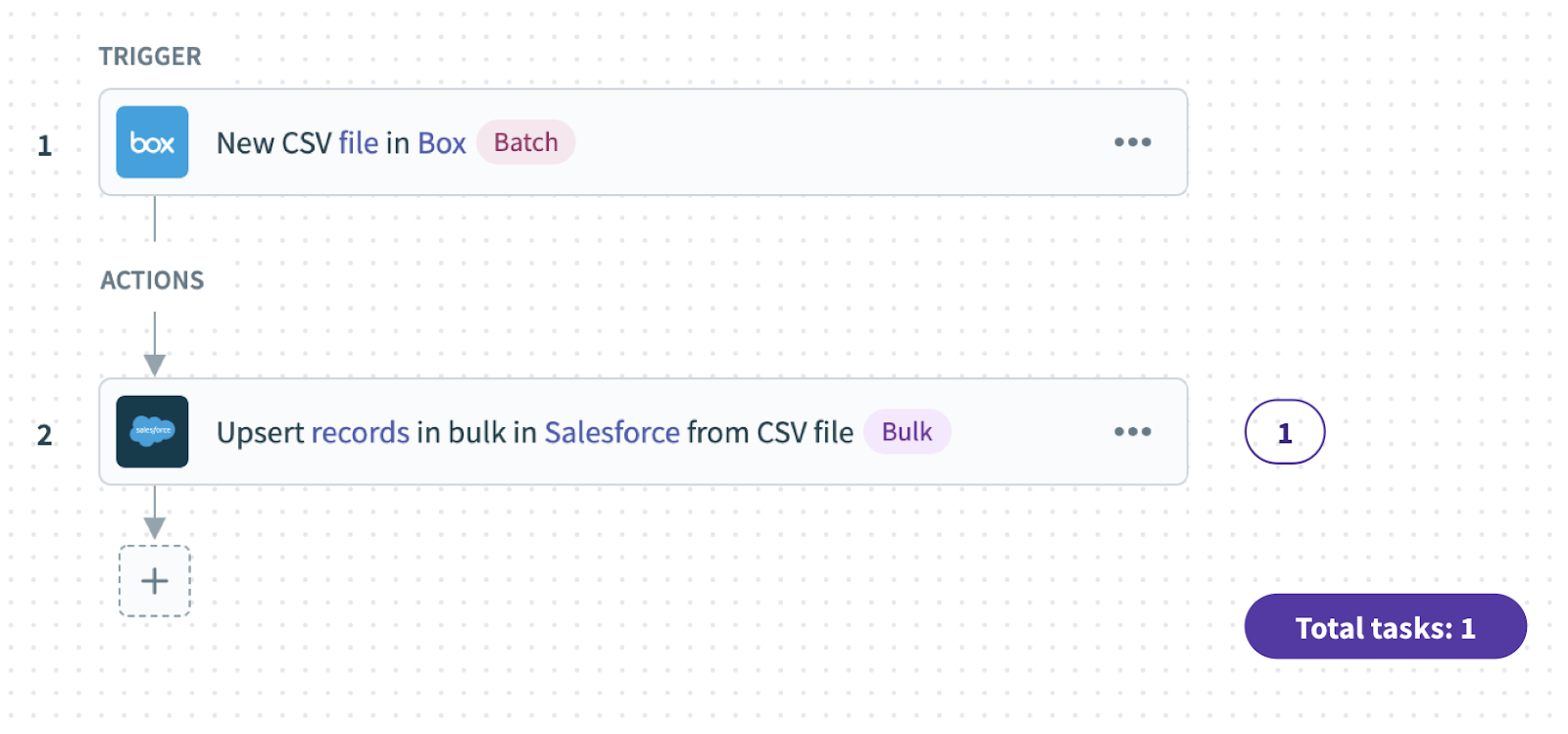 Recipe with a bulk action
1 task is done per bulk action, no matter how many rows are processed.
Total Tasks per job = 1
# Example 5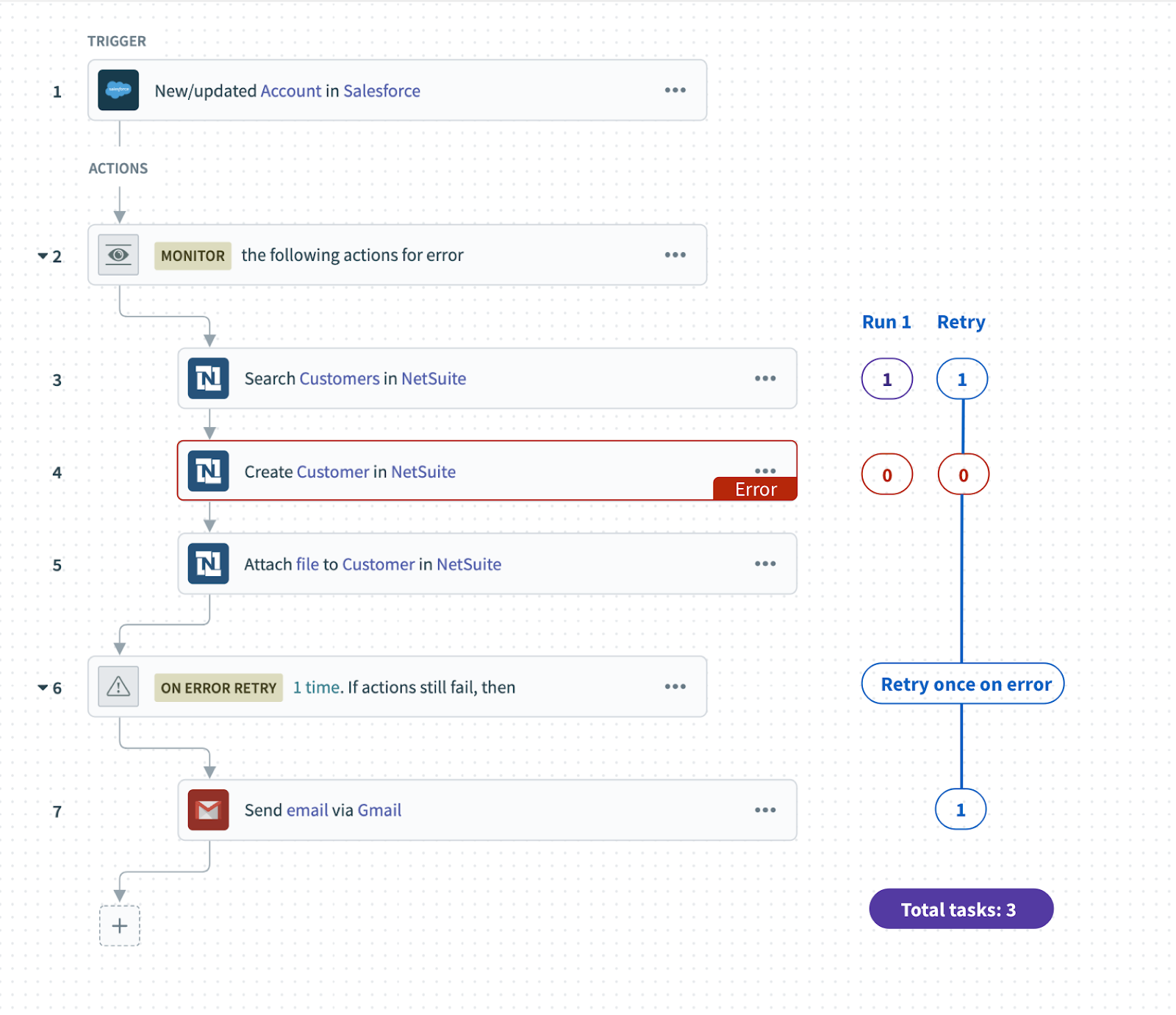 Error monitor and errors
In the example above, the recipe fails on the 3rd step 'Get details of a specific Account in Salesforce'. There are 2 possible scenarios when this happens: all the retries fail, or at least one of the retries are successful.
If all the retries fail, then only step 1 and the 'On error' step, 'Send email via Workato' are considered Tasks. If one retry is successful, steps 2, 3 and 4 are counted as Tasks.
Total Tasks per job = 2 if all the retries fail and 3 if the retries succeed.