# Marketo - Upsert custom objects action (batch)
This action searches for custom object records in your Marketo instance from a list of lookup values (Custom object source list). It will update any existing custom object that match the source list. Otherwise, a new custom object will be created.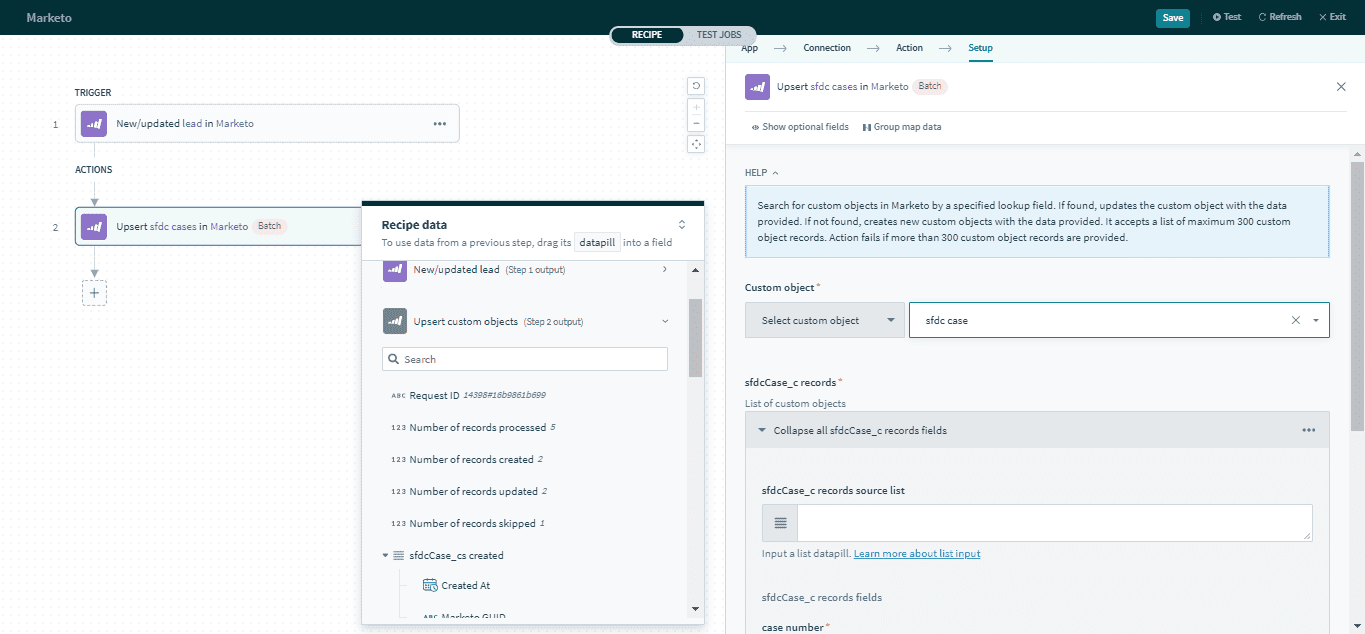 Upsert custom object action
# Input
| Input field | Description |
| --- | --- |
| Custom object | The name of the custom object to be upserted. |
| Custom object source list | A list datapill of lookup values. |
| Custom object input fields | Additional input fields will by dynamically generated for the custom object type. Update values will apply to all custom objects identified in the source list. |
Maximum input list
This action accepts up to 300 custom objects. If more than 300 lookup values are provided, this action may fail.
# Output
| Output field | Description |
| --- | --- |
| Request ID | The request ID of the upsert action. |
| Number of records processed | The number of records processed. |
| Number of records created | The number of custom object records created. |
| Number of records updated | The number of custom object records updated. |
| Number of records skipped | The number of custom object records skipped. |
| Custom object created | A list of custom objects, including the List size and List index. |
| Custom object updated | A list of custom objects, including the List size and List index. |
| Custom object skipped | A list of custom objects, including the List size and List index. |

Last updated: 3/29/2023, 2:00:59 PM